What is Value Stream Mapping ?
A key part of lean methodology, VSM reviews the flow of process steps and information from origin to delivery to the customer. As with other types of flowcharts, it uses a system of symbols to depict various work activities and information flows. VSM is especially useful to find and eliminate waste. Items are mapped as adding value or not adding value from the customer's standpoint, with the purpose of rooting out items that don't add value.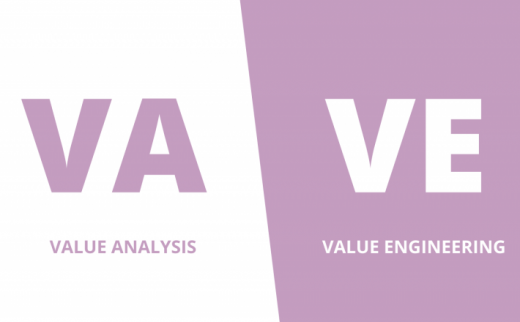 Our Value Analysis and Value Engineering services identify areas of high costs and highlight unwanted product features. Our VA / VE framework helps to analyse probable issues and tackle it at the initial phase.
We have a team of experienced engineers who follow a classical VA / VE approach, which includes functional analysis, cost analysis, idea generation, and identification of functions for cost reduction.
The term Value Analysis / Value Engineering originated in the early days of technique development and its first approach was to increase value, rather than to reduce costs. Therefore there was a need to analyse value.
Value Analysis is a standardized, multi-skilled team approach which aims at identifying the lowest cost way and ensuring the highest worth to accomplish the functions of a product, process or service. Value analysis means to assess product functions and value-to-cost ratios, and to find opportunities for costs reduction.
Value Engineering refers instead to the design stage. This approach is generally used for new products, therefore the same principles and techniques to pre-manufacturing stages such as concept development, design and prototyping are applied.
Benefits of VA / VE :
An all-round better quality product is easier and less costly to produce, assemble, ship, install, use, service and recycle. The result is to reduce all associated costs throughout the product lifecycle (importantly, including ownership costs for the customer).
VA, in conjunction with other world class manufacturing techniques, can help realise substantial company-wide improvements, thereby delivering significant competitive advantage.
It enables improvements to be made to the product in a variety of areas, such as design and engineering, material selection, testing, manufacturing, assembly, shipping, installation, use by the customer, service, maintenance and recycling.
Manufactured in Britain by a British company
'Buying British' isn't about blind patriotism, It goes above and beyond supporting British manufacturing. When you think of British manufacturing, the first word that springs to mind is 'quality'.
Did you know? - Despite the decline since the 1970s, when manufacturing contributed 25% of UK GDP, the UK is currently the ninth largest manufacturing nation in the world.